About
Sewing Machine Repair Training.com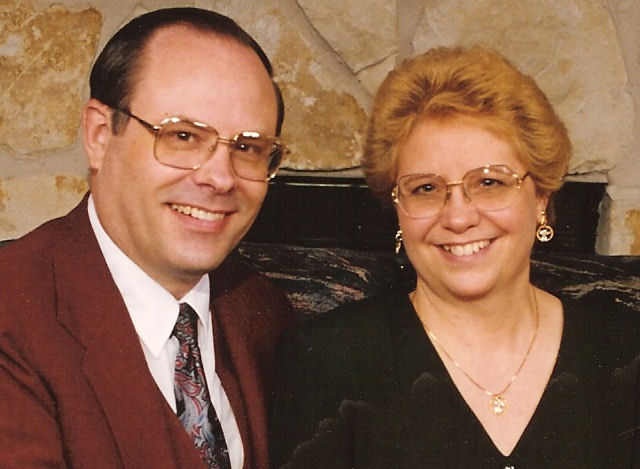 David & Donna Trumble
Hi,
Finding practical training for sewing machine repair can be a challenge. I experienced myself years ago, when first getting started.
My wife and I met in college where Donna was the campus sewing expert doing alterations out of her dorm room. Over the years, sewing has become an integral part of our lives. We married and completed our educations. I pursued graduate studies with a broad range of studies in education, ministry, and business management. (B.A.; M.Ed.; and D.Min.) During my careers, I have taught in public and private schools, preached over 30 years, and operated several businesses.
As a small church minister, money was always scarce. So, in our sewing businesses, we have done just about every kind of sewing you can imagine. We did original costume design to alterations, custom clothing construction, draperies, window coverings, home décor, quilting, and sewing machine repair.
In 1992, we opened The Sewing Studio, a full service sewing center. I was amazed by the demand for sewing machine repair. I had cleaned our machines over the years, but I was no expert. So, I began to look for a school, training center, book, something or somewhere I might learn to repair sewing machines. I thought certainly there would be a basic course offered at the Junior College. Maybe there would be a regional training program from one of the major sewing machine companies. Nope!
I finally found Allyn International (U.S. Necchi) in Denver that permitted me to come to spend a few days with their national repair supervisor. He taught be a bunch. But a few days was not enough. There are thousands of different sewing machine models. I collected a bunch of old old sewing machine repair books. I got repair manuals on many of the more common machines. I studied hard, but still lacked confidence.
My sewing machine repair business started in my garage. Over the years, I have acquired hundreds of hours of technical training on many makes and models including Singers, Necchis, Berninas, Janome, New Home, Dressmaker, Elna, Viking, Brothers, and Baby Lock sewing machines. My practical sewing machine repair experience now stretches over 22 years.
Today we own Temple Sewing And Supply, Inc., a small chain of Sew And Quilt Stores here in central Texas. I have worked in almost every aspect of the sewing business including: production, sales, repair, teaching, accounting, and management. I have drawn on the expertise of many other sewing machine technicians.
My sewing machine repair business had almost immediate success. I am confident that you too will quickly and easily learn sewing machine repair. You may simply maintain your own sewing machines operating at peak performance. Or you may start your own profitable sewing machine repair business.
Castle Christian is a seniors ministry that provides worship services, visitation, counseling, and support for seniors in the Georgetown, Texas community. A portion of the profits from this operation go directly to support this ministry.